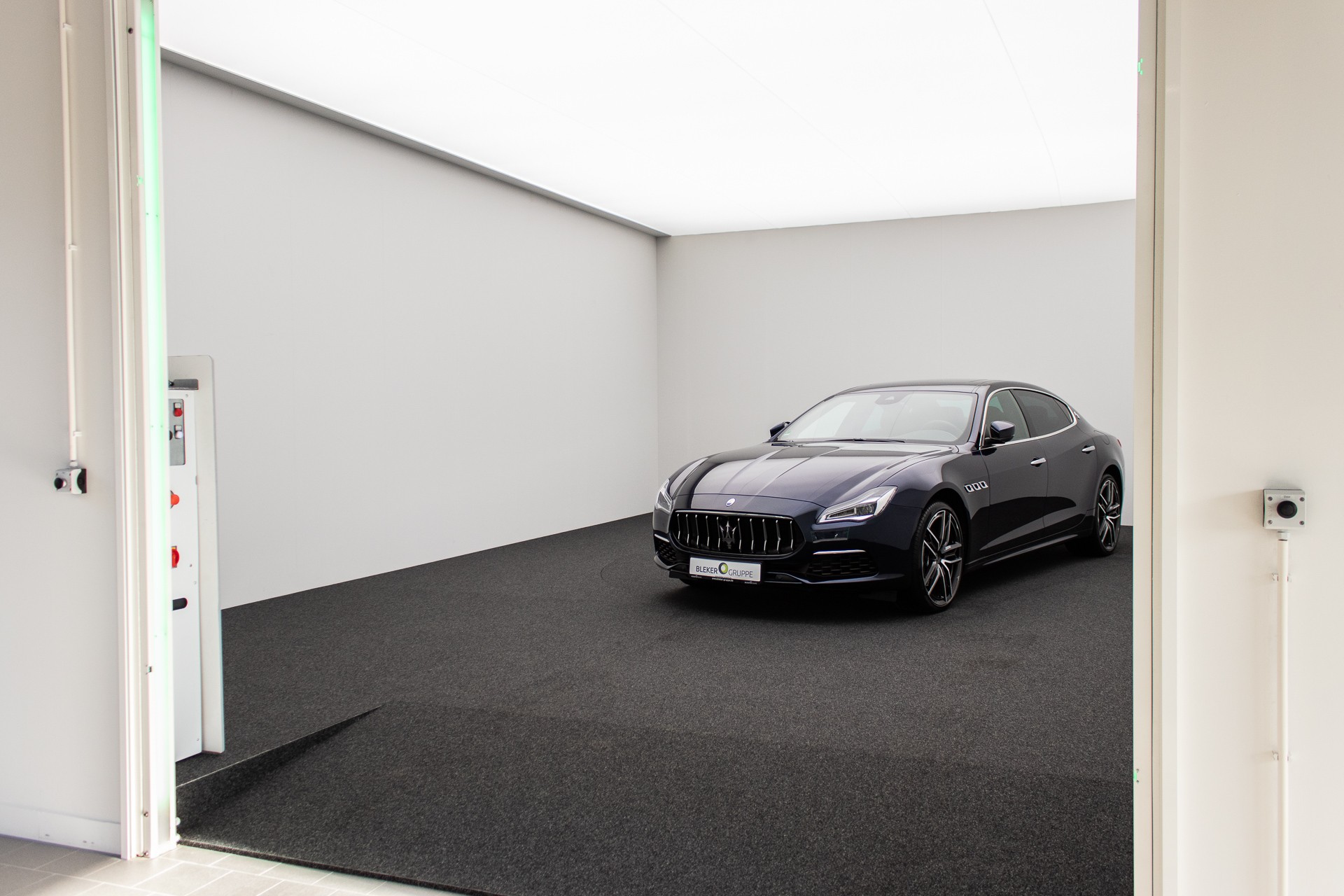 Complete photo studio for car photography
Why

choose the Premium Studio?
Impressive stock presentation
The highest quality photos and interactive 360° images for online publication.
Automatic & fast photography
All photos taken and published in no time using user-friendly software.
Shorten turnaround times
Shorter turnaround times and faster sales thanks to an impressive digital showroom.
Premium Studio: Total solution for car photography
With a complete photo studio for car photography, you are assured of the highest quality photography, consistent advertisements and a professional appearance. This will help you stand out from the competition and generate more leads.
The Premium Studio by Pre-Motion allows you to create a more efficient work process. The automated workflows ensure that cars are photographed in just a few minutes. The photos are then automatically uploaded, edited as required and published. All you have to do is place the car on the turntable: the complete photo studio with automation software does the rest.
The Premium Studio is a complete solution for companies looking for the highest form of efficiency and an innovative online presentation.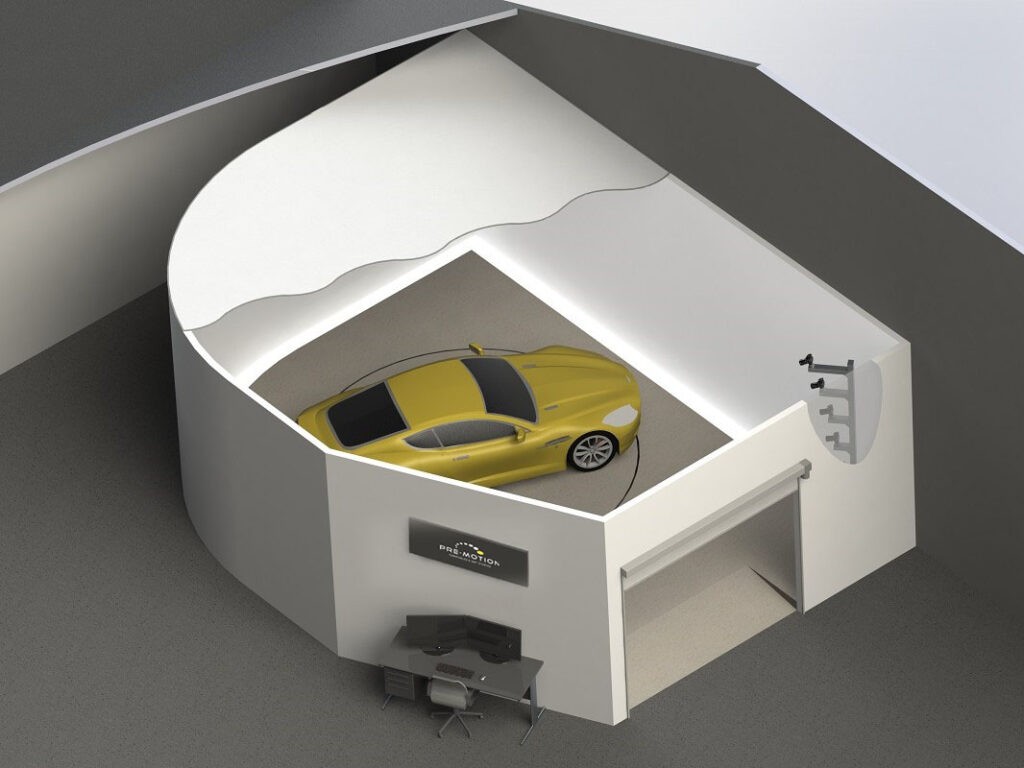 Complete photo studio with 360-degree photography equipment
The Premium Studio is a complete photo studio box equipped with all the necessities for taking high-quality photos. The 360-degree photography equipment includes a controllable turntable, an optimised lighting ceiling and several professional cameras. A separate camera for interior and detail photos is also included. Thanks to the fully automated workflows, you can create a perfect advertising set in just a few minutes.
A major advantage of the Premium Studio is that no structural alterations need to be made. The entire photo studio can be freely positioned in a room and measures 7 by 9 metres. Are you looking for a solution for commercial vehicles? Then the photobox is 8 by 10 metres or 10 by 12 metres. All studios require a minimum height of 4.5 metres. Is your available space different or are you looking for a tailor-made solution for another reason? A customised photo studio is also a possibility.
Cars directly online with consistent photos
A complete photo studio not only saves you a lot of time, it also makes photographing cars much easier. All you have to do is drive the car into the studio. The automated workflows take care of the rest:
If desired, the images can also be shown in 360° on your website. Visitors can easily view the car from different angles thanks to this spinner. The advertising photos are also directly available in your stock management system, including Wheelerdelta, Autotelex and OBS VM.
Thanks to the complete photo studio, cars are not only published online faster, but they are also sold faster due to the innovative online presentation.
The faster turnaround time and shorter standstill time means that you incur fewer costs and the photo studio pays for itself.
The 360° Premium Studio consists of several parts:
A complete photo studio in your company?
Although the Premium Studio is a very innovative product, you do not need any special knowledge to work with it. The equipment is very user-friendly. To ensure that employees understand the photography process and can make it their own, our software partner Photo-Motion provides training after installation.
Although all the equipment works intuitively, it may happen that you are unable to work something out. In this case, you can consult the online manual or contact our helpdesk for direct remote support.
Discover the possibilities for your company
Wondering if a fully automated photostudio is something for your company? We will be happy to discuss the various possibilities with you in a no-obligation consultation.
Frequently Asked Questions
How much time does it take to photograph a car?
This depends on the type of studio and the desired end result. The Premium Studio takes up to 216 photos of the exterior in about 4 minutes. With the optional Photo-Motion HiSpeed this takes only 45 to 90 seconds, depending on the type of camera. In addition, detailed photos and possibly a 360° interior photo are likely to be taken. The time needed for this depends on the number of photos and the colleague who operates the camera, but on average this takes 2 to 7 minutes with our customers. Driving in and out takes about 1 minute in total.
How much space do I need for a Premium Studio?
The Premium Studio for passenger cars is 7 x 9 x 4.5 metres. Do you also want to photograph commercial vehicles? Then please allow for 8 x 10 x 4.5 metres.
In addition to these minimum space requirements, it is important to take into account the routing of vehicles in your building and the turning radius for entering the photo studio. We are happy to think along with you!
What is a suitable place to take photos?
There are a number of things to consider when looking for suitable space within your company or new building:
Logical placement: The room should be conveniently positioned in the routing. This is especially important if you want to photograph a lot of cars each day. It is practical to position the photo studio close to the car wash or the cleaning department.
Easy entry and exit: There should be no obstacles to drive in and out quickly. After all, you want to get the car online as quickly as possible. In the flexible 360-degree rotation programme, you can easily enter the entry and exit position of the car yourself. As a result, it doesn't matter if the drive-up position is not the right starting position.
Avoid daylight: Ensure that you can regulate the level of daylight in the room as much as possible. Pre-Motion will be happy to advise you on the correct lighting.
Keep it practical: Create a background and a floor that is practical for everyday use and stays beautiful in the "dirty environment" of a car dealership.
Does the studio need to be operated by a professional photographer?
No, that is not necessary. The software makes the photography process so easy that any employee can learn it in a few hours. It is recommended to have an operator who is good at doing the same process over and over again, in order to achieve even more uniformity.
What happens if I have a question or malfunction?
During weekdays, our team is available to help with questions or malfunctions. Since every Premium Studio is equipped with a computer, we can log in remotely to help with questions or settings quickly and easily. We do not charge extra for this.
Of course, it is possible that our technical engineers have to visit you to solve a malfunction. With the service contract, you are assured of a quick response for a fixed monthly fee and you will not be charged for man-hours. Feel free to ask for more information.
Is there a link to my stock management system?
Yes, probably. Photo-Motion interfaces with all the major stock management systems, including Wheelerdelta, OBS VM and AutotelexPRO. They are also constantly adding new systems, so don't hesitate to contact us about that. In addition, the 360 spinners and the advertisement photos can be automatically loaded onto your website via our API. A simple manual will guide your website builder step-by-step through the process of linking Photo-Motion to your website.