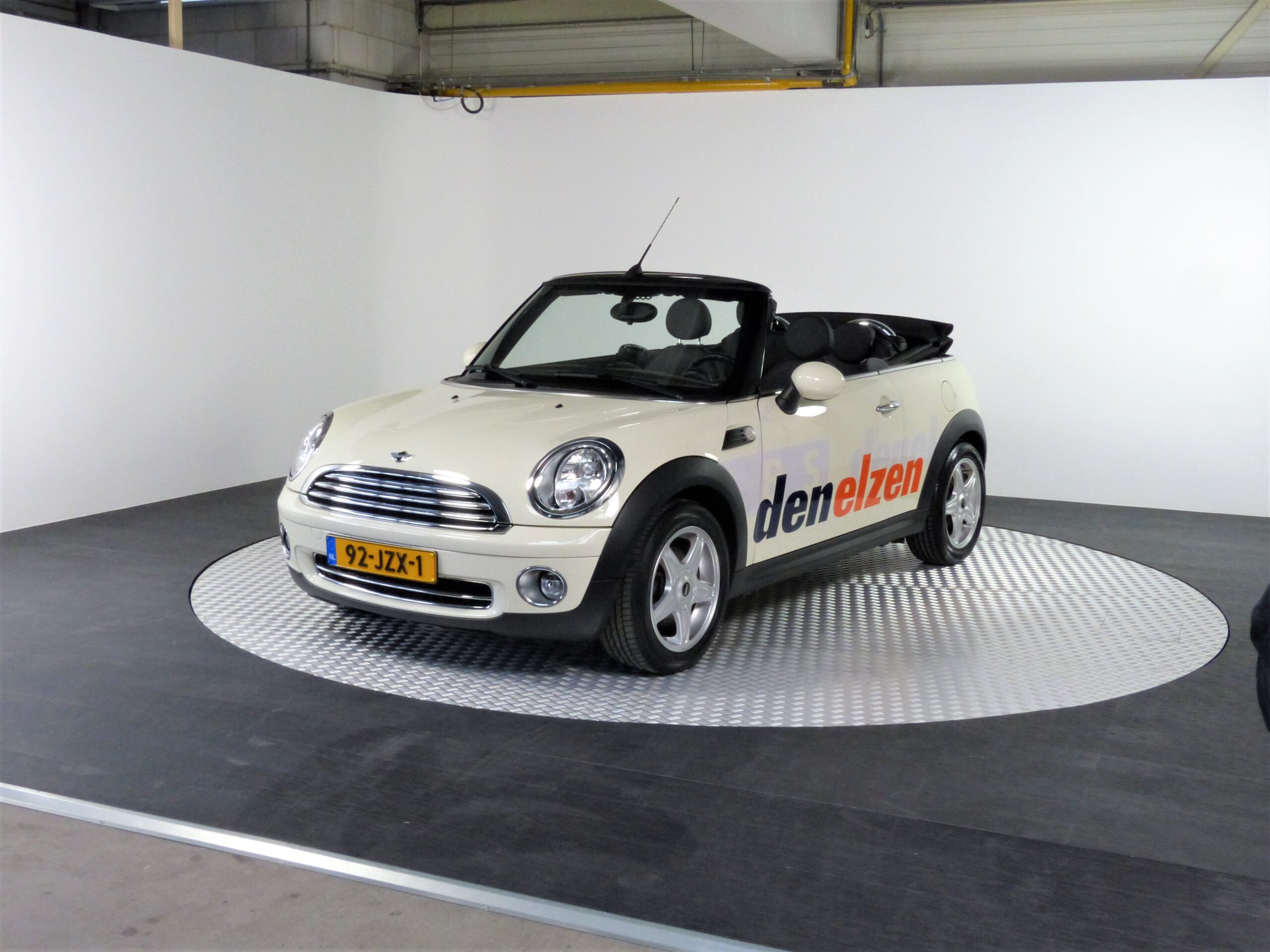 Turntable for car photography
You are setting up your own photography room and are looking for a high quality turntable with which you can photograph your cars without any problems for many years. The most commonly used turntable for car photography is Ø 5 metres and has a load-bearing capacity of 3000 kg. All types of passenger cars can find their place on it, even the extended Audi A8L for example.
Do you photograph a lot of delivery vans, campers and other heavy vehicles? Then go for our Ø 6 metres platform – or possibly even larger. Hint: Do not choose an unnecessarily large platform. For good car pictures, the car models must be driven exactly in the middle of your platform. A (too) large turntable makes centring the car on the platform more difficult.
Car turntables we produce ourselves in our workshop in Veenendaal (NL). Our platforms are noiseless, only 15 cm high and built from high quality parts such as German motors, wheels and bearings. Reliability and a long life span are therefore guaranteed.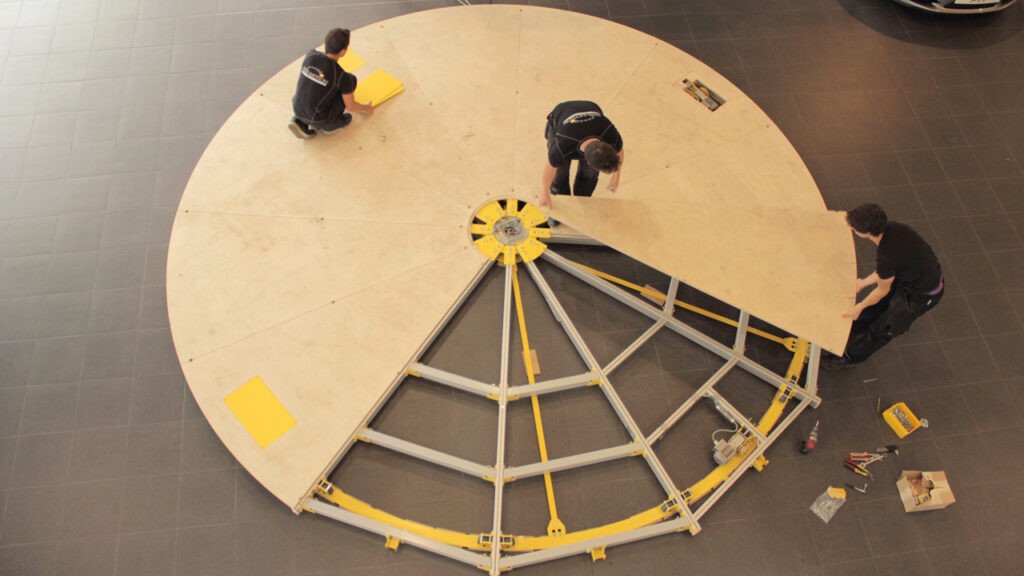 Turntable control
The platform includes basic controls: start/stop, left/right and speed. Do you want to photograph cars consistently from the same angle? Then optionally expand your basic control with automatic stop programs with camera control or automation software. Choose from various control options for optimum 360° car photography and 3D animations!
Opting for built-in or surface mounting?
For car photography it is both aesthetically and practically best to build the turntable into your floor, or to build a raised floor around the turntable. This makes driving up and down easy and makes it as invisible as possible in the pictures.
» Read more
1. Recessing into your concrete floor
When building in, it is important to make an exact and flat recess in the concrete floor for the platform. The flat floor in this pit must of course be able to bear the weight of the car and the platform. Pre-Motion has drawings available to help you cut the recess precisely. As an option, we can apply a wooden template with stainless steel edging before your contractor starts pouring concrete. Once the contractor has finished, we remove the wooden template from your floor and install the turntable. Pre-Motion will help you on your way to a successful installation!
2. Installation on your floor
Pre-Motion installs the turntable on your floor. You then build a raised floor around it. You can also leave the turntable free in the room. In this case, we recommend a platform with an edge trim and ramps.
Would you like Pre-Motion to take care of the raised floor? Then choose our Professional Studio: a turntable with a raised floor all round and sloping ramp.
» Read less
Delivery and service
In our workshop in Veenendaal (NL), turntables are carefully prepared and tested for installation. This enables us to provide you with a complete installation within one day.
Service and attention are our absolute top priority; a satisfied customer is our starting point and our end point. Our Pre-Motion service team offers expert advice and efficient solutions.
Personal advice
Questions about the rotating platform for car photography? Then feel free to contact a specialist from Pre-Motion. Want to know more about taking professional car photos?
Technical specifications
| | |
| --- | --- |
| Turntable diameter | Ø 5 meter |
| Recessed and/or surface mounted possible? | Recessed, Surface mounted (free standing in the room) |
| Construction material | Steel |
| Top Finishing | Plywood sheet |
| Height of turntable incl. plywood | Standard: 15 cm, forextra heavy version: 19.5 cm |
| Standard carrying capacity | 3.000 kg |
| Carrying capacity heavy duty | 4.000 kg |
| Carrying capacity extra heavy version | 5.000 kg |
| Rotation speed | Infinitely adjustable: approx. 0.60-1.50 rounds per minute |
| Direction of rotation | Counterclockwise, Clockwise |
| Power supply | Operates at 230 Vac |
| Power consumption | Standard: 0,36 KW, For extra heavy duty version: 0,72 KW |