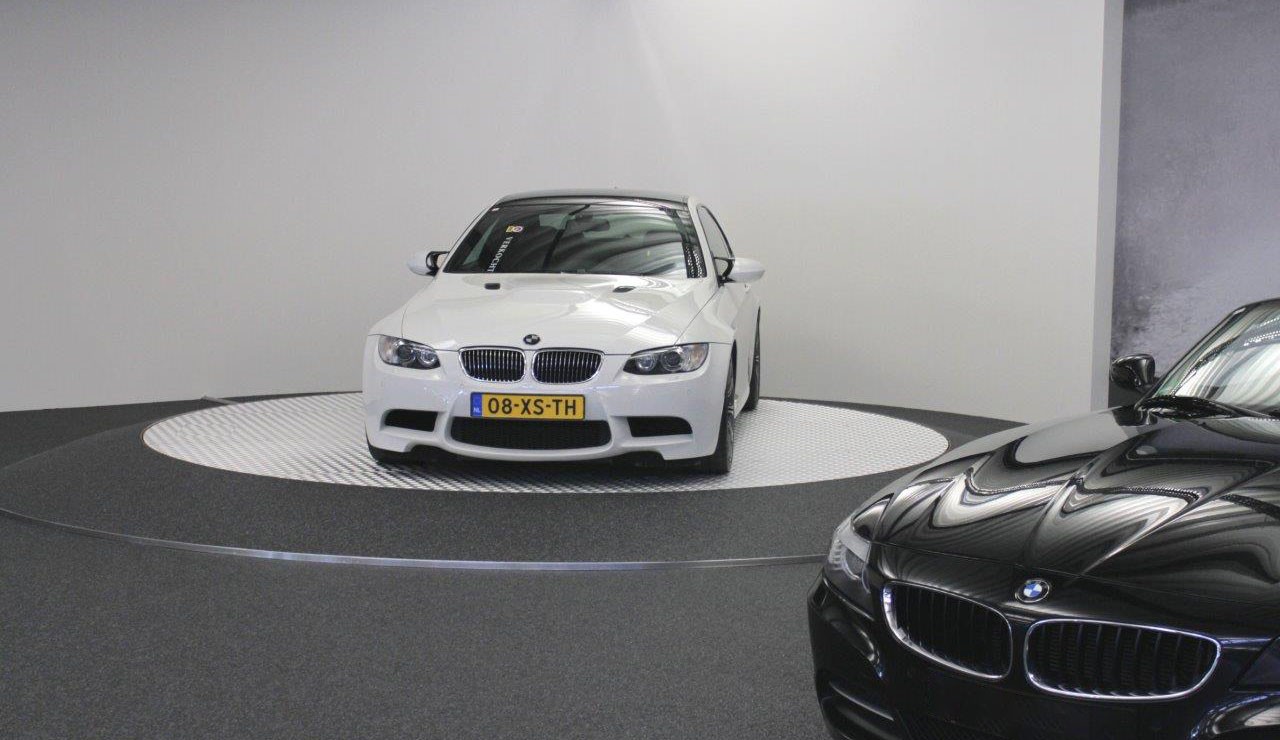 Turntable for car photography
Repeatedly putting the car back and forth to take a picture with the same background and then having to hurry because dark clouds are approaching.
Taking photographs outside takes a lot of time and is only possible when it is dry. By moving the photo room indoors and installing a turntable for photography, you can take photos at a high speed and whenever it is convenient for you. Besides making the photography process more efficient, the result is of high quality. The uniformity of the photos ensures a professional look. With this you lift your online presentation to a higher level and distinguish yourself from the competition.
Not affected by weather conditions
Shorter time-to-market: with a turntable, cars can be photographed faster and more easily
Fast turnaround: good and consistent photos ensure quality leads and faster sales
The Essential Studio is the ideal solution for automotive companies who want to take their first step towards professional automotive photography.
Professional and consistent car photography of your car stock
With a turntable for cars, you can take photos from different angles in an instant:
Tip: When you are not photographing or filming, you can use the turntable for an extra wow effect when delivering sold cars. This makes it a valuable addition to your showroom.
Cars online and sold faster
With a photography turntable, you create both a more efficient photography process and an innovative online presentation. For example, taking photos is easier and faster, which ensures a quicker turnaround time. In addition, the high quality photos and professional presentation on the website will result in more qualitative leads and a shorter time to market. By investing in a rotating photography platform, you thus achieve a double gain in time: cars are photographed faster and the professional imagery ensures more potential customers.
Are you looking for additional equipment, such as walls or lighting, in addition to a turntable for photography? Then the Professional Studio may be the solution for you. If you need a total solution, the Premium Studio is the best choice.
The Essential Studio consists of several parts:
A turntable in your company?
The Essential Studio is the ideal solution for automotive companies that want to take their first step towards professional car photography. The turntable for 360° photography can serve as an upgrade of an existing photo room or be part of a completely new, self-designed photo studio. All you need is enough space to place the turntable, good lighting and a camera. In addition, you can choose to place a raised floor around the turntable yourself, make a ramp or have it into the floor Would you rather outsource this? Then we will gladly help you. After the installation of the turntable, our professionals will explain how use it. This way, you and your employees can start taking pictures of the car stock immediately.
Discover the possibilities for your business
Our most popular turntable for photography has a diameter of 5 metres and a load capacity of 3000 kg. This makes it suitable for photographing almost all European passenger cars. We also have turntables for larger and heavier vehicles. Are you curious which turntable is the most suitable for your company and what the possibilities are for placing one?
Frequently asked questions
What is a suitable place to take photos?
There are a number of things to consider when looking for suitable space within your company or new building:
Logical placement: The room should be conveniently positioned in the routing. This is especially important if you want to photograph a lot of cars each day. It is practical to position the photo studio close to the car wash or the cleaning department.
Easy entry and exit: There should be no obstacles to drive in and out quickly. After all, you want to get the car online as quickly as possible. In the flexible 360-degree rotation programme, you can easily enter the entry and exit position of the car yourself. As a result, it doesn't matter if the drive-up position is not the right starting position.
Avoid daylight: Ensure that you can regulate the level of daylight in the room as much as possible. Pre-Motion will be happy to advise you on the correct lighting.
Keep it practical: Create a background and a floor that is practical for everyday use and stays beautiful in the "dirty environment" of a car dealership.
How do I create a suitable photo area with a turntable?
Perhaps you already have a space where you are shooting now and you want to improve or expand it with turntable techniques. There are 3 options:
New construction: You choose our turntable for car photography. You include the plans for a photo room in the routing of your building. A turntable cut-out of around 15.5 cm is included in the structural work, so that the turntable is sunk into the concrete. Pre-Motion can help you with the construction drawing and the wood template with a stainless steel ring to make the cut-out.
Free space available: You can build a back wall yourself, combine the standard wall elements from Pre-Motion to create a U- or L-shaped wall, or Pre-Motion can install a complete studio box in your space. For the photo box you need a location with at least 7 x 9 metres of free space, for example in the workshop.
Existing photo area or photo studio: You already have a well-equipped photo area on your premises and want to apply the technique of a turntable. Choose our car photography turntable or our turntable with construction accessories (e.g. a raised floor with ramp). With the latter, thanks to the sloping ramp, you simply drive your cars onto the 15 cm high turntable.
How do I present my stock in 360° on my website?
With the turntable you can take photos of your vehicles all around in no time. To enable your website visitors to rotate the vehicles on your website, an extra piece of technology needs to be added to your website.
Website builder: Ask your website builder to integrate a 360 degree slider on your website. They certainly know how to do it!
Photo-Motion: Do you want a beautiful 360 degree slider on your website and automate the entire photography process? Then use the software of our partner Photo-Motion.
How much space do I need for a turntable for photography?
We recommend our Ø 5 metres turntable for photographing vehicles. It is advisable to keep a space of at least 7 x 7 metres free as a photo location, so that you can easily drive onto and off the turntable.
Can I also use the turntable for handovers?
Certainly, by presenting a sold car on a turntable, you add an extra wow-effect to the delivery. You simply let the turntable turn continuously to the left or right and choose the desired speed.