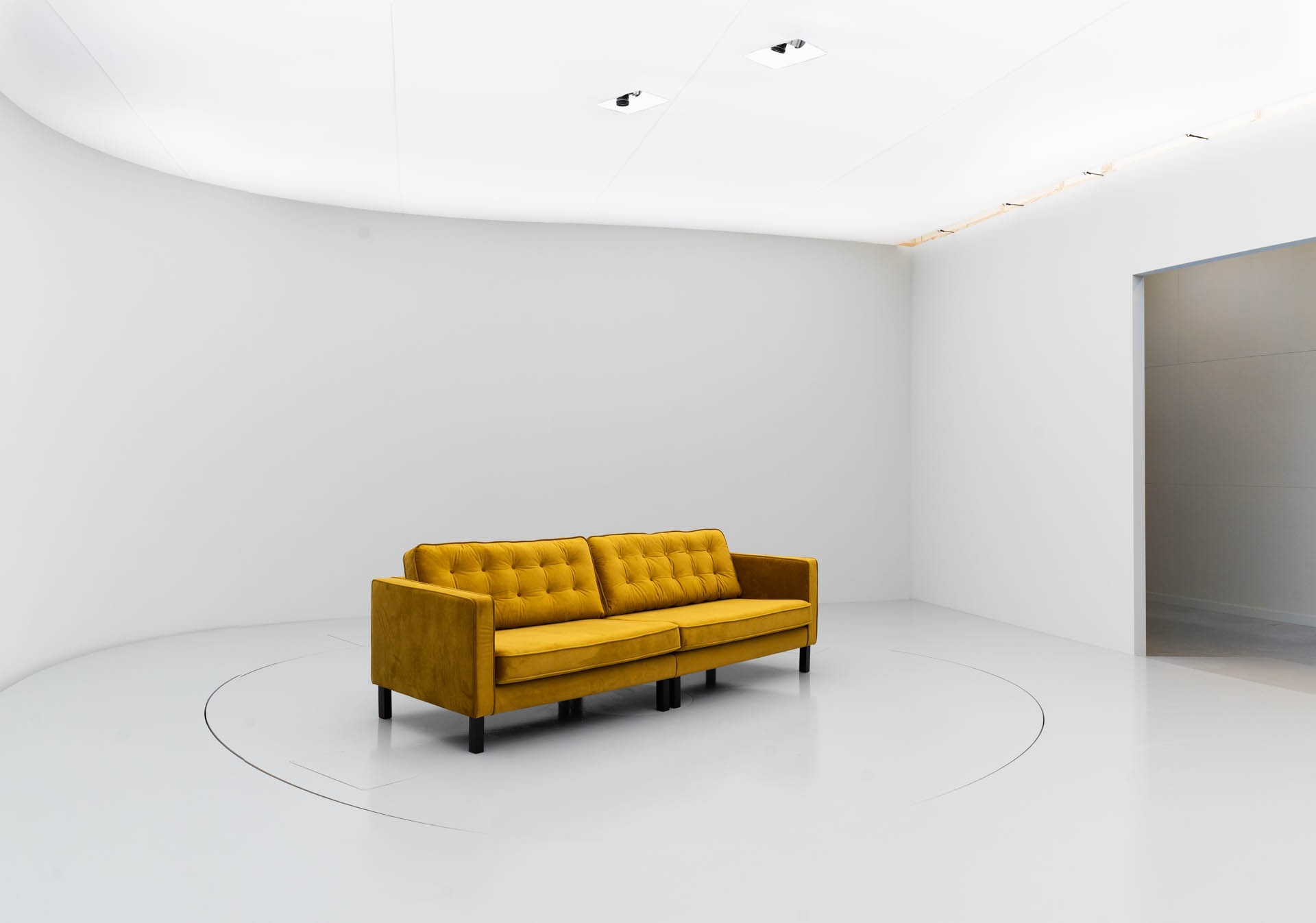 VME Netherlands photographs furniture in modern Pre-Motion photo studio
At the beginning of 2018, we received a nice request from the furniture market (instead of the automotive market). VME Retail inquired with us about a suitable offer for a complete photo studio for product photography. At the time, the company was still in the exploratory phase; meanwhile, at their location in Amersfoort, a complete studio box is ready for daily intensive use.
Photo studio with extra functionalities (custom-made)
As VME Nederland regularly photographs large furniture such as sofas, we advised them to use our standard turntable (of Ø 4.5 metres) with raised floor and ramp. The floor and turntable are tightly coated, in the same light colour as the wall set. Because of VME's efficient work process – whereby furniture is set up on one side of the studio and then moved out on the other side – we realised a second opening in the 7 x 9 x 4 metre studio box. This extra opening ensures that their photography process can continue uninterrupted and unimpeded.
In the studio box, our technicians placed a diffused light ceiling with energy-efficient LED lighting at a height of approximately 3.5 metres. Three Canon cameras were also installed in the ceiling, with the highest camera rising directly above the turntable. The use of at least six cameras is a requirement for the creation of attractive 3D slides. The VME photo studio has no fewer than nine SLR cameras in total: a fixed set-up with eight cameras (five on the camera pole and three in the light ceiling) plus a separate detail camera. This gives VME a total of 288 images per photographed product!
Smart software for the easy assembly of 3D spinners
On the outside of the studio is the workstation, where VME can constantly use the latest version of Photo-Motion software. They also make use of Photo-Motion Online for the easy assembly of 3D spinners. VME will first have all the photo series it has created "cropped" so that the furniture has a completely white background. Then the photos are uploaded to the Photo-Motion Online platform, where the photo series are merged into tight, smooth 3D spinners.

Differences between photo studios for car photography and product photography
Photo studios are therefore not only interesting for the automotive market; retail service organisations such as VME also benefit greatly from the convenience of a total solution including photo software. Car photography and product photography have many similarities: the requirements in terms of hardware and software are virtually the same. For product photography of smaller products, a smaller turntable is sometimes sufficient. In those cases, we can supply a smaller turntable (and therefore a smaller studio box). For car photography, a standard turntable of Ø 4.5 meter is always required. Another difference is that for car photography we always recommend a rolling door to prevent visible reflections in cars. With furniture, the chance of unwanted reflections is generally smaller (depending on the material being photographed).
Want to make your own car photography or product photography processes more efficient?
With our complete studio and Photo-Motion software, you can create beautiful images in the most efficient way possible: from detailed photo series to impressive 3D spinners. It allows you to create interactive online product presentations that turn website visitors into paying customers.
Feel free to contact us to discuss the benefits of an automated photo studio for your business. We would be happy to visit you to view the available space and discuss the possibilities. You are also welcome to visit our demo studio in Ede (Gelderland) to experience the conveniences and advantages for yourself.
Want to make your own car photography or product photography processes more efficient?
Get an offer